Yeah, We Can Wash That
ModBrite™ is the mini-express tunnel small wash with big results. Our modular system offers a high throughput, simple elegant design, first-class amazing customer experience, fits most anywhere and can wash most anything.
All inclusive one price, one machine, one piece of equipment
Fits in existing structures, new construction buildings or freestanding options
Washes 4 x more cars per hours
Modular design installs quickly compared to traditional construction
Washes most all types of vehicles
ModBrite™ - The Best Small Footprint Car Wash System
It's a fact. AutoBrite™ does small footprint car wash systems better than anyone else. AutoBrite™, the makers of the ModBrite™, is the leading manufacturer of mini- modular car wash systems. The ModBrite™ system offers ceiling to floor prefabrication eliminating the needs for the chaos and expense of traditional construction. The ModBrite™ system offers many benefits including:
Precision Engineered Modular Construction
Customized Designed & Built to Exact Specifications
Faster Throughput for Profitability
Fits Most Anywhere & Washes Most Anything
Ships Ready to Install on Location
Self-Service and IBA Replacements
Got an In-Bay Automatic or Self-Service that needs an upgrade?
Our tunnel systems can even fit into an existing space like IBAs and self-service operations. The ModBrite ™ Mini Express Tunnel system will help modernize a location and wash more cars per hour to compete with express tunnel competitors. Whatever the size of car wash you need, AutoBrite™ offers a range of sizing to best suit your needs.
Easy Installation
Jumpstart your car wash's construction project with a ModBrite™ Mini Express Tunnel. Due to the modular nature of the system, the car wash can be installed in less time and less expense than traditional construction.
Everything starts with the simple and elegant design made of just four pillars: two in the front and two in the back. Up front, the computers, interface, electronics, and controls are housed in the pillars, and in the back, the pillars contain the drying system. Everything else connects to the main structure ready to go, which saves you money.
It also is a modular design, so you get to customize your car wash to best suit your market and customers. Each tunnel is custom designed, engineered, and manufactured to your exact specifications. We also test the tunnel before shipping. If you ever move locations, you can take the car wash as a whole or take it apart then move it.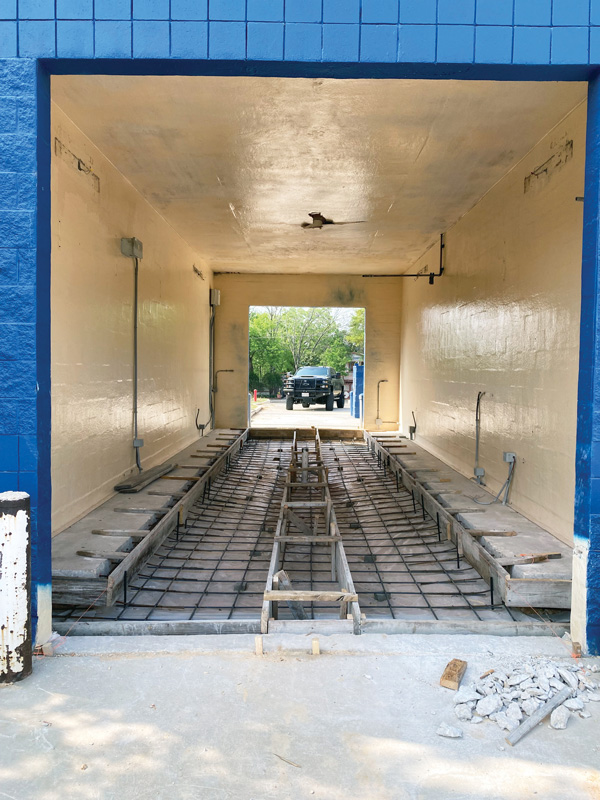 Customizable Sizing
From 40 feet to Texas sized, the ModBrite™ Mini Express Tunnel car wash can fit almost anywhere and wash almost any size vehicle. ModBrite™ car washes are designed to fit into anywhere you need. Whether in urban areas or the countryside, real estate is at a premium which makes the ModBrite™'s compact size an attractive option for tight spaces.
The modular structure is less than 14 feet wide and 12 feet tall, with lengths starting at 40 feet long. We can match your desired length in 5-foot increments. Mini tunnels go up to 65 feet, and short tunnels go up to 100 feet.
We do small footprint car washes better than anyone else, and we also do Texas sized footprint car washes with our Texas Edition ModBrite™ tunnel. Fitting dually lifted vehicles and 4 by 4s into too small of a car wash can damages both the vehicle and the equipment. Our system can fit the largest 4 by 4 to a low hung sports car with ease, so you can wash even more vehicles.
Save More, Make More
With the modulated, simple design, and the range of sizing options, the ModBrite™ Mini Express Tunnel helps you save more money and make more money. The ModBrite™ provides 42+ cars per hour throughput, delivering four times the output compared to older In-Bay Automatics.
The ModBrite™ car wash is all one machine, so everything comes at one price with everything you need for your car wash. Everything is already prewired and ready to go.
Our car wash tunnel can fit anywhere you need it to. The modular design can fit into small spaces and is self-contained and free standing. It also can be fit into an existing In-Bay Automatic structure to update an old car wash, or a new traditional structure can be built around the ModBrite™ car wash tunnel.
Features
Modular Design
Stainless Steel Construction
Includes Dual-Belt Conveyor System
Self-contained & Free Standing
Compact, Small Footprint
Brick & Mortar Can Be Built Around Free-Standing System
Higher Profitability - 42 + cars per hour throughput
Less Labor to Operate
Diversity of Vehicle Washing Capability
14 Wide x 12 Ft Height
Length Options: 35 ft., 40 ft., 45 ft., 50 ft., up to 100 ft in 5 ft increments