Our Belts Work With All Car Wash Equipment Brands
Whether you have Sonny, Motor City, ADW or other equipment, the AutoBrite™ conveyor belt system will work. Our belts are simple to install, simple to operate, simple to maintain and simple for customers to use. That means minimal construction, and faster conversion of an IBA or operation of a new tunnel.
Benefits Include:
More Cars per hour/ More vehicle types
Easy to operate/ Fewer employees
Quick and simple installation/ Less downtime
Easy to maintain/ Debris-free belt technology
Floor mounted vs wall mounted for safety and stability
First-class amazing customer experience
Conveyor Belt Installation
Improve Customer Experience, Safety & Profits
The AutoBrite™ Dual Belt Conveyor System gives your car wash customers a first-class experience on a belt built to last and save you money on labor and maintenance costs. Our advanced technology conveyor belts are the modular solution to improve your car wash lines. Each dual belt conveyor system is customized to meet your exact system location needs.
They can be installed on new construction with one of modular tunnels or integrate with other popular OEM car wash equipment. AutoBrite™'s dual belt conveyor system can even be installed at an existing location to modernize an older location. The bottom line is that we keep your car wash line running faster and safer with our conveyor belt systems.
Constant Spacing for Bater Load Times
Reduced Maintenance, Downtime & Damage
Smooth, Comfortable & Safe Customer Experience
Easy Installation, Solid Construction & Proprietary Materials
Built to Last
The Dual Belt Conveyor design is simple with two motors, two gear boxes, two sensors, and two variable frequency drives placed on the outer sides of the belt. This allows for a backup operating system and lets you wash low profile as well as wider vehicles. The belt system sits securely on the ground to prevent collapse.
Our long-lasting belt is made from 403 stainless steel, so it is built to withstand the harsh water and chemicals in a car wash. The center of the vehicle sits on a stainless-steel beam, and the wear plates are also made of stainless steel which can be replaced as needed at a local fabrication shop. The pins holding the belt together are made of polyoxymethylene, so there is no metal inside the system that will wear down.
The dual belt conveyor system is easily bolted together without needing a welder, so it can be installed with tools a car wash already has on hand. The easy installation cuts down on construction expenses.
First-Class Experience While Washing More Cars
The AutoBrite™ Dual Belt Conveyor System guides the car through the car wash by a cleat on the driver's side. The car does not hook onto anything which prevents damage to both the vehicle and the carwash equipment. In addition, braking and steering wheel turning do not affect any operations, providing an extra element of safety. The belt conveyor deliver a smooth ride and an enjoyable experience for the customer.
With even spacing between vehicles no matter their size, the dual belt system moves cars through the car wash with faster load times. Faster load times mean more throughput and more customers who will come back again because of the smooth ride.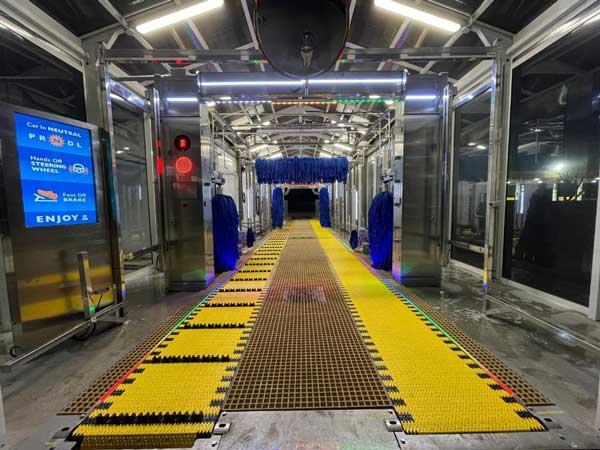 Save Money
The AutoBrite™ dual belt conveyor system increases your throughput by helping you wash more cars per hour. The system is fully automated and requires less maintenance, which saves money on your car wash costs. The smooth ride through the car wash due to the belt system provides customers a great experience which will keep them returning for washes again and again.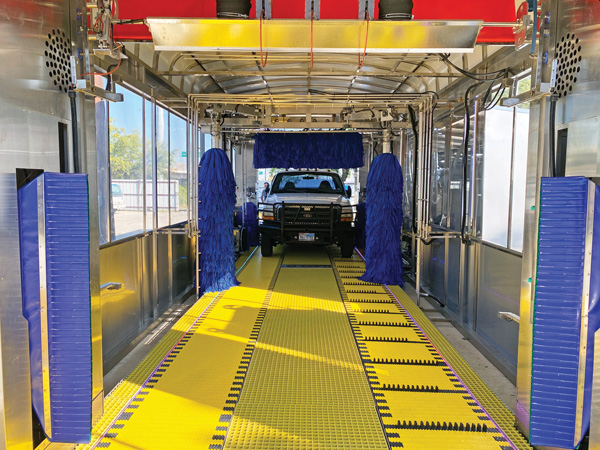 Save More, Make More
With the modulated, simple design, and the range of sizing options, the ModBrite™ Mini Express Tunnel helps you save more money and make more money. The ModBrite™ provides 42+ cars per hour throughput, delivering four times the output compared to older In-Bay Automatics.
The ModBrite™ car wash is all one machine, so everything comes at one price with everything you need for your car wash. Everything is already prewired and ready to go.
Our car wash tunnel can fit anywhere you need it to. The modular design can fit into small spaces and is self-contained and free standing. It also can be fit into an existing In-Bay Automatic structure to update an old car wash, or a new traditional structure can be built around the ModBrite™ car wash tunnel.
Features
Park Belt Conveyors, Neutral Belt Conveyors, Retrofit Belt Conveyors
Made of 403 stainless steel
Easy instillation
Less maintenance requirements
Automated system
More throughput
Better customer experience
Can fit wider vehicles
Minimize Downtime & Increase ROI with Our Belt Conveyors